Magpul PMAG 30 AR/M4 M2 MOE Window - MagGrips Pre-Installed
MG-MAG570-BLK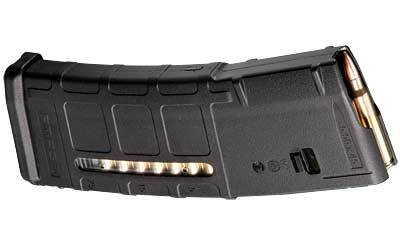 NOTE: Use Credit Card Payment Only During Checkout When Purchasing Magazines.
Description:
The Magazine comes with MagGrips Pre-Installed for you. (Image is of magazine before install)
The PMAG 30 AR/M4 GEN M2 MOE Window is a 30-round 5.56x45 NATO (.223 Remington) AR15/M4 compatible magazine that offers a cost competitive upgrade from the aluminum USGI. It features an impact resistant polymer construction, easy to disassemble design with a flared floorplate for positive magazine extraction, resilient stainless steel spring for corrosion resistance, and an anti-tilt, self-lubricating follower for increased reliability.
In addition, durable dual-side transparent windows allow for quick determination of approximate number of rounds remaining in the magazine. Utilizing a high visibility indicator coil on the spring and numerical markers on the magazine body, the MagLevel™ system provides positive verification without affecting the durability or reliability of the magazine.
This product is NOT sold/shipped in the following locations: CA, CO, HI, MA, NY, NJ, MD, Chicago, IL, Franklin Park, IL, Oak Park, IL, Riverdale, IL, Aurora, IL, South Bend, IN. Check your local laws in your state as you are responsible for knowing your particular laws relating to hi cap magazines.
UPC:873750008226
UPC Flat Dark Earth:873750008233
UPC Olive Drab:873750008257
UPC Foliage Green:873750008240
Color
Black (0) Flat Dark Earth (0) Olive Drab (0) Foliage Green (0)
Magazine Only Option
With Grip Kits Installed (0) No Grip Kits Installed (-2)