Mag Storage Solutions AR 5.56 .223 Magazine Rack
MG-MSSBLK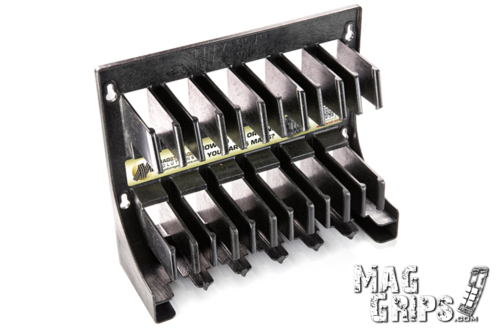 Description:
The MSS rack provides a universal storage solution for 30 round AR-15 magazines. This rack holds six 30 round AR-15 magazines at a time and can be mounted inside your gun safe, weapons room, or any area where you store and organize your magazines. Magazines snap easily in/out and remain firmly in place. Our mag holder is Made in the USA and is compatible with most .223 and 5.56 caliber mags. Stop searching your drawers, cabinets and range bags for your mags!
Features:
Easily store and organize your AR-15 magazines
Mount in your gun safe, weapons room or ammo locker
Magazines snap in/out for secure protection against accidental damage
Be safe and responsible by organizing your mags in one location
Made In The USA.
What's Included:
(1) Mag Storage Solutions AR 5.56 .223 Magazine Rack.
Magazine Compatibility Chart:
Compatible Mags:.223 and 5.56X45 calibers

Magpul Pmag 30rd. .223
Magpul Pmag 30rd. w/window .223
Magpul Pmag w/ Ranger Plate 30Rd. .223
Magpul Emag 30rd. AR-15 .223
Magpul Gen 3 Pmag AR-15 30Rd. .223
Black Dawn, Zombie Pmag AR-15 30rd. .223
Troy Industries Battlemag 30rd. AR-15 .223
Lancer 30rd. L5 5.56X45 (.223)
CAA Countdown 30rd. AR-15 (Cabela's) .223
EMA Tactical Countdown 30rd. AR-15 .223
Brownells AR-15 30rd. .223
Brownells AR-15 30rd. Tactical Mag. .223
D&H Industries AR-15 30rd. .223
MAG EMA AR-15 30rd. .223
Fusil 30rd. AR-15 mag .223
Bushmaster 30 rd. AR-15 .223
AR-Stoner 30rd. AR-15 .223
HK 416 30 round .223/5/56 Maritime Mag
PRI 30Rd. AR-15 .223
S&W M&P 15 30rd. .223
Colt AR-15 30rd. .223
Promag Colt AR-15 30rd. .223
DPMS AR-15 30rd. .223
Triple K Colt AR-15 30rd. .223
Sig Sauer 516/556 30rd. AR-15 .223
FN SCAR 16S 30rd. AR-15 .223
Doublestar 30rd. AR-15 .223
Cammenga MFG. 30rd. AR-15 .223
Charles Daly AR-15 30Rd. .223
Military Contract AR-15 30Rd. .223
Tapco Aluminum 30rd. AR-15 .223
Tapco Gen 3 30 Rd. AR-15 .223
ASC 30Rd. AR-15 .223
C Products 30Rd. AR-15 .223
IMI Defense 30 Rd. .223/5.56 AR-15
Plinker Tactical 30 Rd. .223/5.56 AR-15
Ruger 30 Rd. .223/5.56 AR-15
Windham Weaponry 30 Rd. .223/5.56 AR-15
MDI Matrix Diversified Industry 30 Rd. .223/5.56 AR-15
Mako E-Lander .223/5.56 NATO AR-15 30 Rd
Mossberg .223/5.56 NATO AR-15 30 Rd

Compatible Mags: other calibers:
Bushmaster 26rd. AR-15 6.8 SPC
PRI 25rd. AR-15 6.8 SPC
RRArms 25rd. AR-15 6.8 SPC
ASC 25Rd. 6.8 SPC
Barrett 30rd. 6.8 SPC
C Products 25 Rd. 6.8
Bushmaster 20rd. .450cal
Bushmaster 26rd. 7.62X39 cal
ASC 25Rd. 6.5 Grendel
C Products 25Rd. 6.5 Grendel
UPC:799418504636
Brand:
Mag Storage Solutions