Hexmag HX30-AR-15 Magazine
MG-HX30-AR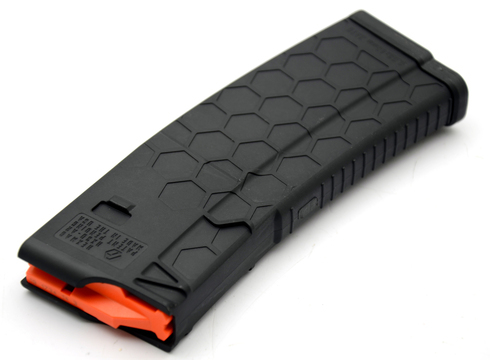 NOTE: Use Credit Card Payment Only During Checkout When Purchasing Magazines.
Description:
A Superior Grip is achieved with our Patent Pending hexagon surface pattern.
Our Anti Tilt Follower was designed to help stop residue particles from entering back into your rifle.
Our High Visibility Orange Follower allows for safer clearing of your rifle's chamber.
Tool Free Design, no tools or bullet tips needed to disassemble and clean the inside of your AR-15 magazine.
A Heat Treated 17-7 PH Stainless Steel Spring, allows for long term magazine storage while fully loaded. Stainless steel resists corrosion unlike music wire or silicon steel springs.
Our HX30's Reinforced Polymer Construction is lighter than other leading AR-15 magazine.
5.56 x 45 / .223 Remington, 300ACC Blackout approved. 458 SOCOM tested working by an independent manufacturer.
National Tactical Officers Association tested and approved. NTOA
This product is NOT sold/shipped in the following locations: CA, CO, HI, MA, NY, NJ, MD, Chicago, IL, Franklin Park, IL, Oak Park, IL, Riverdale, IL, Aurora, IL, South Bend, IN. Check your local laws in your state as you are responsible for knowing your particular laws relating to hi cap magazines.
UPC:861643000013
UPC Flat Dark Earth:861643000099
UPC Olive Drab:861643000105
UPC Dark Gray:085992200621
Magazine Color
Black (0) Flat Dark Earth (0) Olive Drab Green (0) Dark Gray (0)